Andrea Orrego
Why Not Visualizing Your Home Remodel Project Ahead of Time Can Break It
Being able to visualize your design ideas before hiring someone or starting a home renovation project will prove to be the best decision ever made.
There are different ways for you to be able to do this. And I'm going to share with you the way designers do it and the way design enthusiasts do it too so you can pick the model that best fits your design process.
Designers have the ability to imagine exactly the potential of a space as soon as they walk in it and look around. Sometimes, they don't even need to be in the space to project their ideas.
However, there are tools that we use to make sure that what we are imagining will actually work, and there is always a lot of brainstorming, trial, and back-end work before coming up with the best result.
The first step is to measure the room in question. Take out your tape, or your Augmented Reality app -- like the Atelier Home Design app -- and measure your room wall to wall and even floor to ceiling.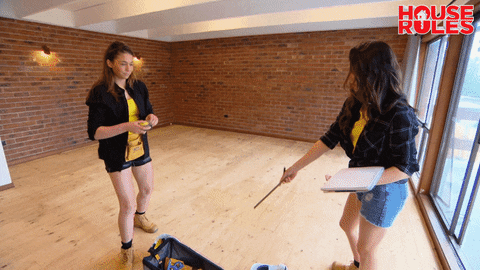 Having these dimensions will be the most important step you need to take to know basic information like the size of the furniture you need to purchase or the amount of paint and flooring you need.
The next step is to create a to-scale floor plan of the room to upgrade. This floor plan will help you locate all the elements that you are adding to your room and calculate exactly the flow of transit, maximizing the ultimate potential for this room.
Pro tip: create wall elevations. Wall elevations are vertical plans of the walls in your room. What you need to do is draw a square with the dimensions from floor to ceiling and wall to wall of each wall in your room and start locating elements like windows, fireplaces, wall art, and furniture. This will help you see what each wall in your room will actually look like and you can start adding everything you want -- and even color it to match the colors and textures that you've pre-selected.
Then, create a vision board. Collect photos and images that represent what you are trying to create in the room you are designing. While doing this process, it's also important to find all the sources for the paint, flooring, furniture, and decor that you are adding to your room. Find the retailers and also the prices and make sure that what you are building is something that will match your budget before starting a project you won't be able to finish.
Pro tip: create a 3D model of your room. With a to-scale 3D model of your room, you'll be able to see how all the colors, textures, and shapes you've picked for your room actually feel in the room and judge your choices better.
So that is how professionals do it. If you are looking for a less time-demanding way of doing things -- and also less labor demanding -- try out a new way that home design enthusiasts are using.
There is a surge of home design tools hitting the app store lately but there are few of them that deliver all the tools you need. With Atelier Home Design, you can get all the steps mentioned in the process above, without needing to measure with actual tape, draw to scale, or do research to find where to source everything.
This app allows you to measure your room using your phone's camera and it creates a 3D model based on those dimensions. In that model, you can add the finishes you want, change them out as many times as you want until you have your perfect pick, and see exactly how much money is going into these updates. This is really the perfect interior design app, and most importantly, it's designed to be easily picked up.
In the 3D model, you can also add furniture and decor from retailers that do good in the world and have high-quality products. Move around the furniture as many times as you want and even add your own furniture to see how it all integrates. Once you are done, head over to the cart and see your design matched to your budget. Create a plan to purchase your project in phases or go for it all at once if you are ready!
The choice is yours. You can do your home project the conventional way, create plans, draft elevations, and do research to source all that you need, or download the Atelier Home Design app and start designing right away.<